QIS Services
With the purchase of any of our services, you will receive:
Technical Support
Expert advice
Helpful guidance covering a broad range of functions
From receiving inspections to micro testing, you can always call on QIS for assistance.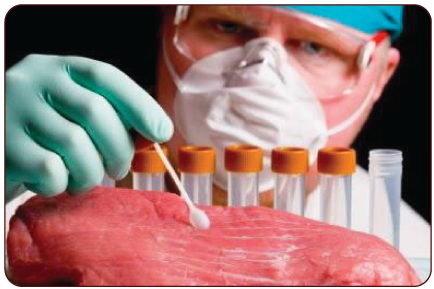 QIS comprehensive services allow you to obtain a thorough, efficient and reliable quality program without the cost of an expert's salary. Hiring experts for a daily fee can become expensive, especially if it takes more than several days to resolve a problem. With QIS services, your expert is always a phone call away and will provide as much time as necessary to solve your problems. If your operation requires a visit, our daily charge is about 20% of the price of experts hired on a case by case basis.
Please consider the quality service and savings your operation will receive when you employ a top notch meat inspection program. QIS and your personnel can begin working together today implementing such a service.
Basic Services
Receiving Programs
Receiving Programs are an integral part of any procurement program. We offer assistance in setting up guidelines for temperature and condition requirements, for specification checks such as back fat acceptable weight ranges, tail lengths and for accept/reject criteria. We can instruct your personnel as to sampling procedures, dry materials inspection, and initial specifications for suppliers and claim procedures.
In House Activities
In House Activities play a critical role in your quality program. QIS helps establish date guidelines and temperature specifications, assure proper rotation, design appropriate sanitation procedures, and to record and organize all of this information for management action with custom forms.
Shipping Programs
Shipping Programs provide you with the final opportunity to ensure the quality of your product. QIS will assist with transportation issues. In addition, if your retail customer needs special assistance or guidance, QIS can help you better serve your customers. If appropriate, we work to assure your products are properly received and handled at the retail level.
Distribution Operations
QIS has the ability to assist in your distribution operations. Total distribution services include:
Warehousing and transportation systems
Labor productivity
Cost justification
Efficient product slotting
In addition, trouble shooting includes identification of problems, analysis of various solutions and implementation of selected solution. Improve your productivity and cost control with labor training, efficiency studies and state-of-the-art methods.
Period Audits
Periodic Audits of programs ensure compliance to procedures and serve to reaffirm the commitment to providing quality products. When you begin using QIS services, you will receive a complete initial inspection of your facility. Then, every quarter, we will review your progress and outline recommendations for additional improvements.
QIS Communication Line
QIS Communication Line is a service to all our customers. Each week, QIS will contact your Q.C. Personnel for information on any claims your establishment makes. We will compile this information from each of our customers, develop a list of claims segmented by regions, and then notify each location of possible problems to monitor inbound shipments.
Receiving and Inspection Services
Retail Support Program
QIS has experience in the retail meat business that allows you as a packer-supplier to tailor your products to meet the needs of your customer, the retailer. We can develop specifications to define your product to the retail procurement department. QIS will assist in the establishment of test markets or in the exploration of a needs assessment for specific types of products. The extra retail experience that QIS offers can make the difference between the success or failure of your product.
Following is a partial listing of additional services QIS offers, along with services tailored to your individual needs:
Claim Administration
Yield Testing
Micro Tests and Spoilage Tests
Sampling Selection Assistance
Fat Testing
Pest Control and Evaluation
Taste Panels and Focus Groups
Product Seasoning Formulation and Development Assistance
USDA Regulatory Assistance
USDA can cause a series of never ending frustrations for the best run operations. Enormous amounts of time and energy can be spent dealing with and keeping abreast of the constantly changing and required regulations. QIS has the experience with the USDA and will assist with partial quality programs. QIS has access to sophisticated software that can track your PDRs to ensure the inspection levels used by USDA are proper under their Performance Based Inspection System. This software can automate the regulatory compliance process for your operation. Labeling software is also available. Many of the newer quality programs, such as ISO 9000, require third party verification. QIS can provide the level of expertise to assist in documenting "due diligence" in product liability claims.
Arbitration Inspections
Arbitration Inspections are needed when there are differences of opinion between the supplier and the receiver as to the results of an inspection or suitability of a product. QIS can serve as an unbiased referee in these situations. We will advise or intervene, if you wish, to provide a solution that can satisfy all parties and resolve issues for future deliveries.
Supplier Quality Audits Specializing in the Meat Industry
Your suppliers are one of the most important allies in the successful operation of your business. A strong supplier/ customer relationship must be in place for optimum performance. QIS can assist in a better relationship by conducting Quality Audits of your suppliers specifications. This allows for sharing of information on a technical basis, setting the stage for better understanding of each other's business, resulting in better quality products for the customer. These audits can emphasize food safety, specifications or shelf- life concerns. There are other companies which perform these services but they do not specialize in meat food safety.
Seminar Attendance
Get the point without sharpening your pencil. QIS can attend seminars for you. We take notes, make audio tapes, collect literature, and analyze relevant information so that you may implement it into your daily operations. Receive the education at a fraction of the cost without you or your valuable personnel losing time from work. QIS can also provide a timely list of upcoming seminars from which you may select.